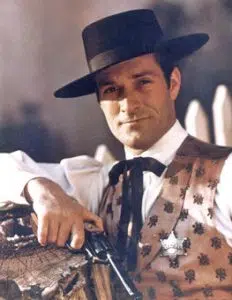 The Freedom to Choose – A Message from Hugh O'Brian
"Unfortunately, a very small number of our young people seem to attract most of the news. They are in the public eye because they have stolen cars, vandalized schools, created disturbances—in some way rebelled against society. These headline-makers represent only a small part of our teenage population. It is a fact that 98.7 percent of our young people are law-abiding, constructive citizens. There is too much focus on the negative. It is time we accent the positive—pat the good guys and gals on the back— let them know there are rewards for being responsible members of the community. "I do NOT believe we are all born equal — CREATED equal in the eyes of God, YES — but physical and emotional differences, parental guidance, varying environments, being in the right place at the right time, all play a role in enhancing or limiting an individual's development. But I DO believe every man and woman, if given the opportunity and encouragement to recognize his or her own potential, regardless of background, has the freedom to choose in our world. Will an individual be a taker or a giver in life? Will that person be satisfied merely to exist, or seek a meaningful purpose? Will he or she dare to dream the impossible dream? "I believe every person is created as the steward of his or her own destiny with great power for a specific purpose: to share with others, through service, a reverence for life in a spirit of love."
HOBY – Hugh O'Brian Youth is an organization that was started in 1958, by the Marine Veteran turned Celebrity Actor at 33 years old, when he was challenged by a Noble Peace Prize winner to use his success to do something to make a difference in the world.
Two weeks after being given the challenge O'Brian had designed plan for the first HOBY Leadership Seminar. He felt that youth were really beginning to make the choices that would direct their life when they were about 15 years old. He decided to seek out sophomore student leaders and give them an experience that would push them to become even more outstanding. With the help of his friends and contacts O'Brian conducted a weekend long event for about 30 young men in Los Angeles.
From 1958 to 1967, leadership seminars took place in Los Angeles for sophomores from around California. In 1968 the scope of the HOBY program grew to include national and international participants, and the seminar moved annually to different major cities across the United States. Thus, the International Leadership Seminars, now known as the World Leadership Congress (WLC), began. In an effort to include more students nationwide, three-day HOBY Leadership Seminars were instituted in 1977 in which high schools throughout the country may nominate a sophomore to attend a HOBY seminar in their state.
With the help of local civic organizations (Lion's and Kiwanis Club) HOBY Georgia was founded in 1978. Under the direction of the organization the O'Brian had set up the leaders in Atlanta formed an affiliate organization. The all-volunteer organization has conducted a Leadership Seminar for the sophomores of Georgia every year since.
HOBY GA is a group of volunteers that manages all the programs of HOBY in the state. Still under the direction of HOBY International the committees plan, resource (funds, staffing, participants)and then conduct the annual 3 day Leadership Seminars, 1 day Community Leadership Workshops and Alumni Association Activities. For over five decades, HOBY has inspired young people to make a difference and become catalysts for positive change in their home, school, workplace, and community. As America's foremost youth leadership organization, HOBY has a long and impressive history of successfully motivating youth and volunteers to outstanding leadership.
HOBY's Mission
To inspire and develop our global community of youth and volunteers to a life dedicated to leadership, service and innovation.
The Vision
To motivate and empower individuals to make a positive difference within our global society, through understanding and action, based on effective and compassionate leadership.
The Core Values
Volunteerism – Volunteerism is the heart and soul of our organization. We appreciate the myriad contributions of our volunteers, and recognize the power of thank you and of giving back. We seek to promote and encourage service among our stakeholders. We recognize and value the positive accomplishments that volunteers can achieve by working together. We believe that our programs positively impact volunteers as much as the youth and communities we serve.
Integrity – Integrity forms the foundation of our organization. We demand the highest level of ethics. We grow our organization based on interactions that promote mutual trust and respect with our stakeholders and partners. We strive to ensure the highest level of organizational effectiveness by continually reviewing our programs and processes to improve quality and efficiency.
Excellence– We strive to continually raise our programs and business to new levels of excellence. We encourage entrepreneurship and innovation in business, education, and social responsibility. We develop creative solutions to address challenges and to utilize opportunities. We believe that leadership skills can and should be continually improved and refined.
Diversity– We value and embrace diversity. We seek out views that reflect all walks of life, and reflect those views in our programs. We are sensitive to the special needs and diverse backgrounds of individuals. We give all individuals an equal opportunity to be heard and to benefit from our programs.
Community Partnership – We value community partnerships. We recognize the importance of working with community organizations to strengthen our supportive network. We value the input we receive from our community partners, and strive to work together cooperatively and constructively for the betterment of all.
To learn much more about Hugh O'Brian, the challenge issued to him by Dr. Albert Schweitzer, and all the resulting programs that now make up HOBY please visit www.hoby.org