Frequently Asked Questions
Where are the seminars located?
Georgia Northwest will be held on the campus of Oglethorpe University. The address is 4484 Peachtree Road NE, Atlanta, GA 30319.
Georgia Southeast will be held on the campus of Georgia College and State University. The address is 231 W Hancock St, Milledgeville, GA 31061.
When are the seminars?
Georgia Northwest will be held May 31 – June 2, 2019. Registration begins at 7:00AM and ends at 8:30AM.
Georgia Southeast will be held June 7 – 9, 2019. Registration begins at 7:00AM and ends at 8:30AM.
It is required that the ambassador is present for the entire weekend, including overnight.
Which seminar will my student attend?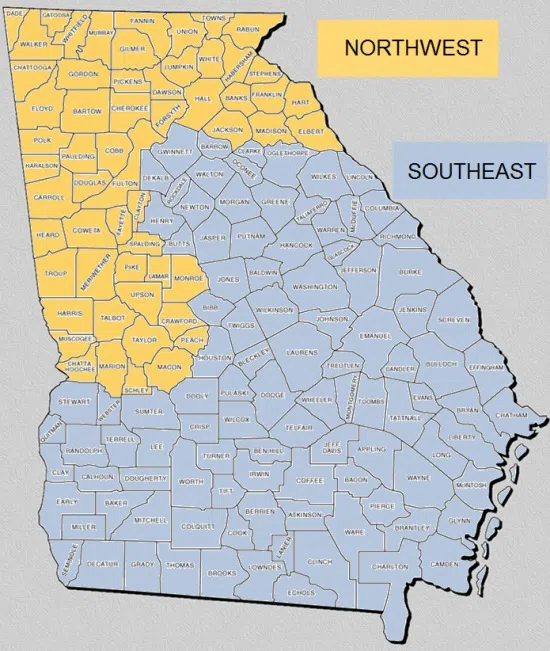 Who volunteers at HOBY seminars?
HOBY Georgia is proud of our diverse group of volunteers! We range from volunteers on Junior Staff that are in their senior year of high school to facilitators in a number of different careers that have been volunteering with HOBY Georgia for years. Our volunteers have come from various cities and backgrounds, have attended several different universities, and have accomplished many successes in careers and other volunteer organizations.
What transportation arrangements have been made?
You are responsible for your ambassador's transportation to/from the seminar. Please include all details of your itinerary on the Participant Confirmation Form. If you have last minute transportation problems, please notify Renee Ratcliff at 770-843-1478.
Where will my ambassador be staying during the seminar?
HOBY Georgia ambassadors stay in dorm rooms on the college campus where their seminar is held. There will be ONLY HOBY ambassadors in the dorms we have reserved for the weekend. Each room is two ambassadors per room, and roommates will be assigned prior to the seminar. At both Georgia Northwest (Oglethorpe University) and at Georgia Southeast (Georgia College), two rooms (two beds in each room) are connected by a shared bathroom. If you have further questions on this, you may contact Renee Ratcliff at 770-843-1478.
What does my ambassador need to wear during the seminar?
Ambassadors are encouraged to wear comfortable, but school appropriate clothing. We ask that ambassadors wear a t-shirt from their school (or with the school's name/mascot on it) when they arrive on Friday. We encourage bringing one "night time casual" outfit for our activities on Saturday night, and we request that ambassadors wear more formal clothes for closing ceremonies on Sunday. We also do a lot of walking and activities that require your ambassador to be comfortable while participating. This is further explained on the Ambassador Dress Code & Rules page of your packet.
What should my ambassador bring with them to the seminar?
The most "commonly forgotten" items at our seminars are bedsheets, towels, toiletries and pillows. Remember that we are staying in dorms, so we ask that ambassadors bring their own bedsheets and towels as they are not provided by the college. We also ask that every ambassador bring fleece to make blankets for one of our community service projects. There is a full packing list provided in your information packet.
What should my ambassador know about the variety show on Saturday night?
The variety show is one of our most popular activities at all of our seminars. If your ambassador plays an instrument (piano will be provided), sings, dances, writes, jokes, or anything else they can imagine, encourage them to participate in our variety show. Please send any props, music, or extras needed for their performance with your ambassador. All variety show acts must be pre-approved by the Leadership Seminar Chairs of their seminar. There is more information on this in your information packet as well.
Is there any kind of religious service held at HOBY?
We hold an optional, non-denominational service on Sunday morning before the day's activities begin. Any ambassador is welcome to attend.
What should I know about the Parents Program that is held on Sunday?
The Parents' Program contains several beneficial aspects that most parents of college bound students tend to find very informational and helpful. We encourage all of the parents of our ambassadors to attend our Parents' Program and Closing Ceremonies to learn more about what your ambassador has learned during our seminar, and how you can help them successfully take what they learned back to their schools.
If necessary, how may I contact my ambassador during the seminar?
Parents, friends, and family members are discouraged from calling students during the seminar due to the disruption caused to panels and activities. In case of an emergency, you may call Renee Ratcliff at 770-843-1478. The seminar will be chaperoned by qualified adults who will be staying at the facility 24 hours a day.
What if my ambassador is unable to attend the seminar?
If circumstances arise that prevent you from attending the entire seminar, including overnight, we would like to provide another student the opportunity to attend in the place of your ambassador. Please return the forms to the person at your school who selected you, and follow up with a call to Renee Ratcliff,
770-843-1478.
Who should I contact if I have additional questions?
If you have any additional questions that you need answered prior to your ambassador's seminar that are not answered here or in your information packet, please contact one of the LSCs (Leadership Seminar Chairperson) of your ambassador's seminar:
Georgia Southeast –hobygeorgialscse@gmail.com
   Morgan Fermin – Co-Leadership Seminar Chair – morgan.fermin@gmail.com
Liz Harper – Co-Leadership Seminar Chair – elizabethmharper@gmail.com
Georgia Northwest – hobygeorgialscnw@gmail.com
Hilary Mills – Co-Leadership Seminar Chair – htn0001@gmail.com
          Allie Petersen – Co-Leadership Seminar Chair – petersen.allie@gmail.com